Product Supplier Profitability
Product Supplier Profitability Download Help License +bizpep.com
Determine your profit by product and supplier. Product Supplier Profitability allows you to identify the true costs associated with your products. It does this by considering initial costs (purchase, transport, receiving, and reject), on-going costs (storage, overheads), as well as finance and customer return costs. Calculations are presented in both Form and Table view for effective display. Supplier/Product profiles are created in Form view and cost analysis by unit and profile applied. Sensitivity functions allow you to test variations for Stockturn and Customer Returns. Each profile can be saved to the Table view providing a database of profiles with Sub Totals by supplier and calculations for the Total Business. A Template feature allows you to set up standard profiles.
This application is suitable for all resale business operations regardless of size. It allows you to build a complete product/supplier database with a cost breakdown and analysis for each profile, each supplier and the Total Business. From this you can critically compare suppliers and products to determine true profit contributions.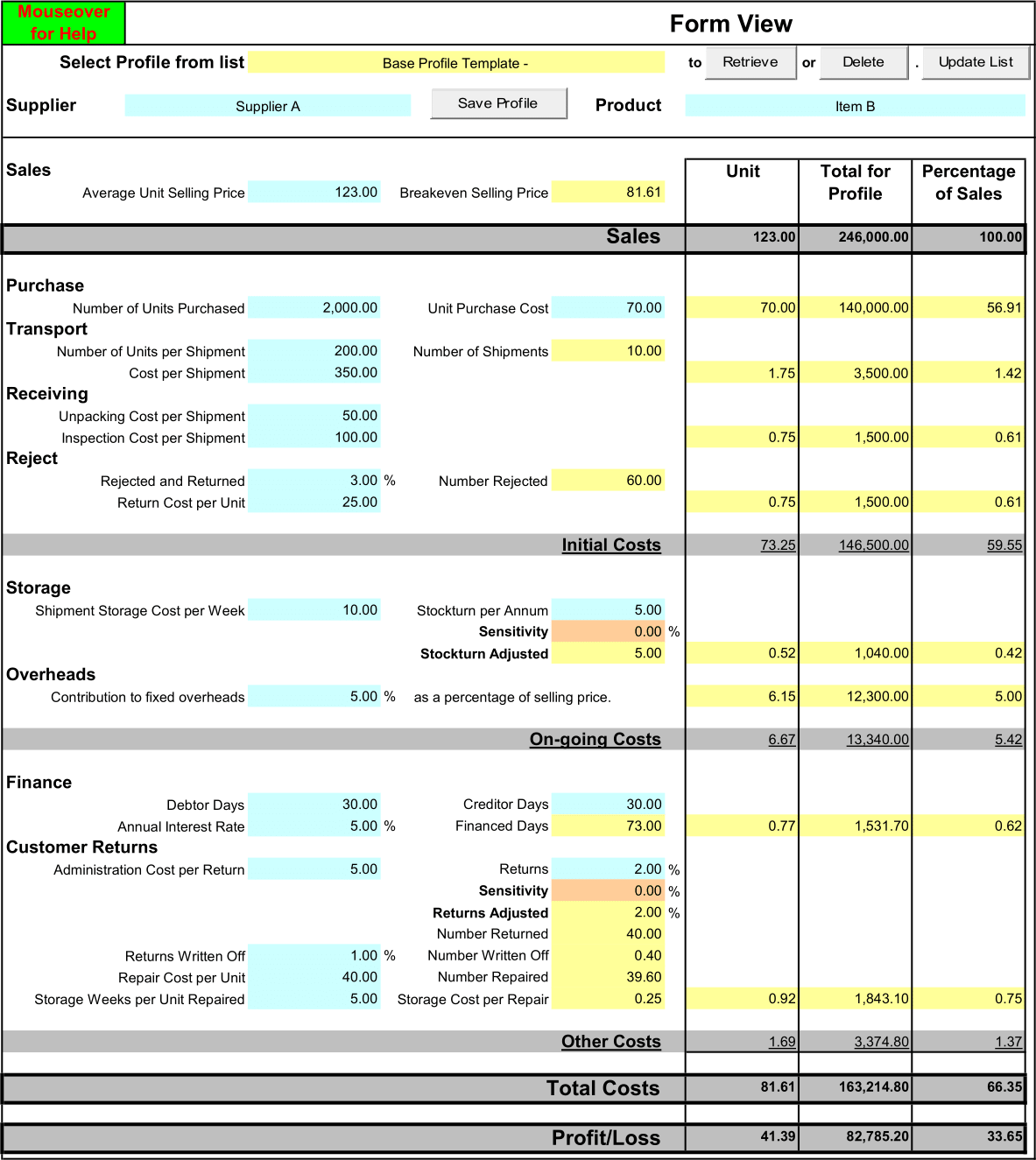 Download Product Supplier Profitability
Download Product Supplier Profitability - Compressed Zip file
productsupplierprofitability.zip
or
Download Product Supplier Profitability - .xlsm file
productsupplierprofitability.xlsm
This application is a macro-enabled spreadsheet developed in Microsoft Excel and will only function when opened using a spreadsheet program with macros enabled. You can download Product Supplier Profitability free of charge for evaluation. In evaluation mode some functionality is restricted. To license your application and fully enable all functions requires the purchase of an application license. If you have not already please consider buying a license to fully enable your application.

If you download the Compressed Zip file unzip/uncompress the downloaded file and save the content .xlsm application file. If you download the .xlsm file simply save the .xlsm file. Open the .xlsm file and follow the instructions. Macros must be enabled for this application to function. If you cannot access input or command buttons do not operate macros are not functioning. In this case please refer to your spreadsheet help to enable macros. This application does not access or alter your system or system files in any way. To uninstall simply delete the saved files.
Application suitability must be independently assessed and use indicates acceptance of any and all associated risk.
Help Product Supplier Profitability
Product Supplier Profitability provides profitability analysis for supplier profiles individually and in total.
Form
The Form sheet allows you to Retrieve Templates, Saved Profiles, Sub Totals, or a Total Business Profile from the dropdown list. With Templates and Saved Profiles you can add new data (blue cells), test sensitivity (tan cells), and view results (yellow cells). You can step through the input cells using your Tab key. All value changes should be done from the Form sheet. Save Profile saves your created profile to the Table sheet. When applying sensitivity the tested values are displayed in the yellow Adjusted cells. These adjusted values are used in calculations and when saving the profile. Only Save Profile after you have added input values to the Form Sheet. If you Save while there are calculation errors due to missing values these will be added to the Table and you will need to delete the Profile for the Totals to be valid. Sub Totals are the sum of all profiles for the supplier. The Total Business profile is the sum of all supplier profiles in the table and gives a compound view of profitability. To delete a profile select it from the dropdown list and Delete.
The Form sheet performs calculations to determine profitability. The formula in the yellow cells can be viewed to enhance understanding. Excel errors i.e. #DIV/0! etc indicate that input data is missing. For additional comments mouseover the red markers in the Form sheet.
Table
The Table sheet displays all saved profiles, Sub Totals, and the Total Business profile. Values should only be changed in the Form sheet. All formula are not included on the Table sheet only values from Form sheet calculations. Reset allows you to delete all added profiles and return the software to its initial default state.
Template
The Template sheet displays the set Templates. You can Add templates and set them up with default values in the blue cells as required, change the Template identifier using the supplier and product values. The yellow cells contain formula that will be applied when the template is saved to the Table sheet (ignore any values in Template sheet yellow cells). You can also Delete added templates. The Base Profile Template (the first template) cannot be deleted, it is used as the base for all new templates.
License Product Supplier Profitability
Please consider supporting application development. Licensing your application will fully enable all functions.
License your application now
$69.00 USD per year
Secure online transaction processing is provided via PayPal. License details are sent by email as soon as your transaction is processed and will fully enable your application.
Application suitability must be independently assessed and use indicates acceptance of any and all associated risk.