Investment Analysis
Stock Share Price Analysis
Stock Share Price Analysis
Developer Web Site: bizpep
Price: $55.00 (USD)
Requirements for Use: Google Sheets
Stock Share Price Analysis is a Google Sheets Add-on with automatic stock share price fair value calculations, trend analysis and high/low triggers to identify value buy sell trade points. It uses current Google Finance data for current share prices and actual earnings per share. From this data actual fair value share prices and current price discounts are calculated. This provides a basis for direct comparison of share price value.
uInvest Investment Analysis

uInvest Investment Analysis
Developer Web Site: bizpep
Price: $0.00 ()
Requirements for Use: Current Browser
uInvest provides the capacity to easily analyze the performance of any investment. It applies basic input variables to build an investment analysis by year. Investment performance is converted to equivalent current year values enabling the actual investment performance to be determined. By developing forecast projections it is possible to identify when investment performance spikes or dips. This acts as a strong buy / sell indicator.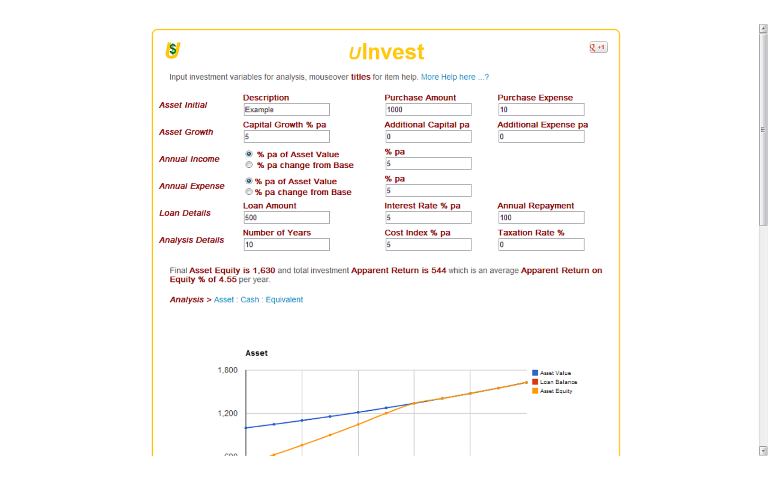 Stock Price Analysis
Stock Price Analysis
Developer Web Site: Stock Price Analysis
Price: $0.00 (USD)
Requirements for Use: Current Browser
Stock Price Analysis provide a free web based stock price analysis module. The easy to use interface incorporates Fundamental Analysis to calculate: Fair Value stock price; comparative stock Value; profit Target sell price; Stop Loss sell price; Price Earnings Ratio (PE) for Fair Value and Buy prices; stock Return on Investment %; and provides access to Technical Analysis charts to evaluate stock movements and buy/sell signals.