Business Forecast Software
Business Analysis
Business Analysis
Developer Web Site: bizpep
Price: $99.00 (USD)
Requirements for Use: Current Browser
Business Analysis Software provides business forecasting, valuation, breakeven and price analysis. With up to a 10 year Forecast, Sensitivity Analysis, Investment Return, Net Present Value, calculated Business Valuation, Breakeven and Optimum Price analysis. Modules run in your browser, do not alter your system in any way and all data is saved locally on your computer providing the highest level of security.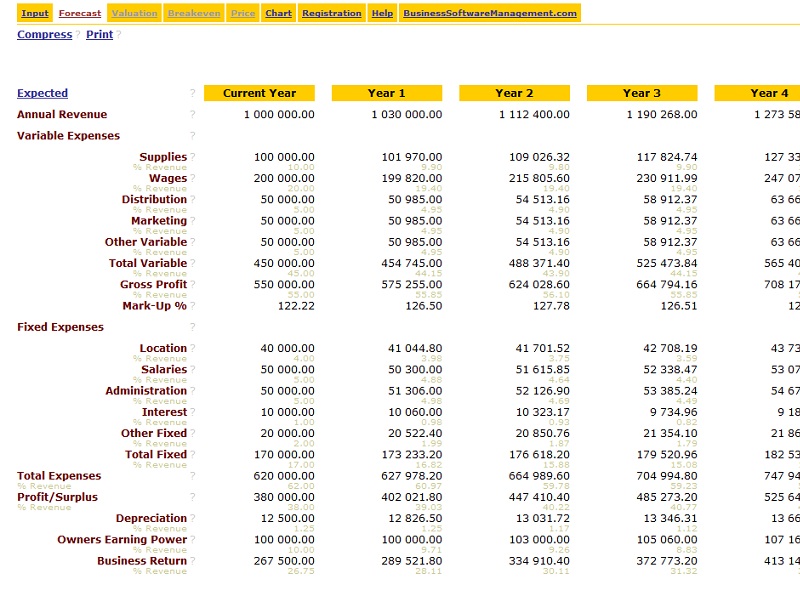 Forecast and Budget Builder Excel
Forecast and Budget Builder Excel
Developer Web Site: Bizpep Excel Business Support Software
Price: $69.00 (USD)
Requirements for Use: Microsoft Excel
The Forecast and Budget Builder is a streamlined tool to develop a 3 year business forecast and 12 month budget quickly and easily. It requires minimal inputs to generate Optimistic to Pessimistic forecasts for your business and a verifiable 12 month budget. This forecast and budget tool can be utilized for existing and proposed businesses. Outputs include 3 Year Forecast, Sensitivity Analysis, and Budget by Month in tabular and graphical form.